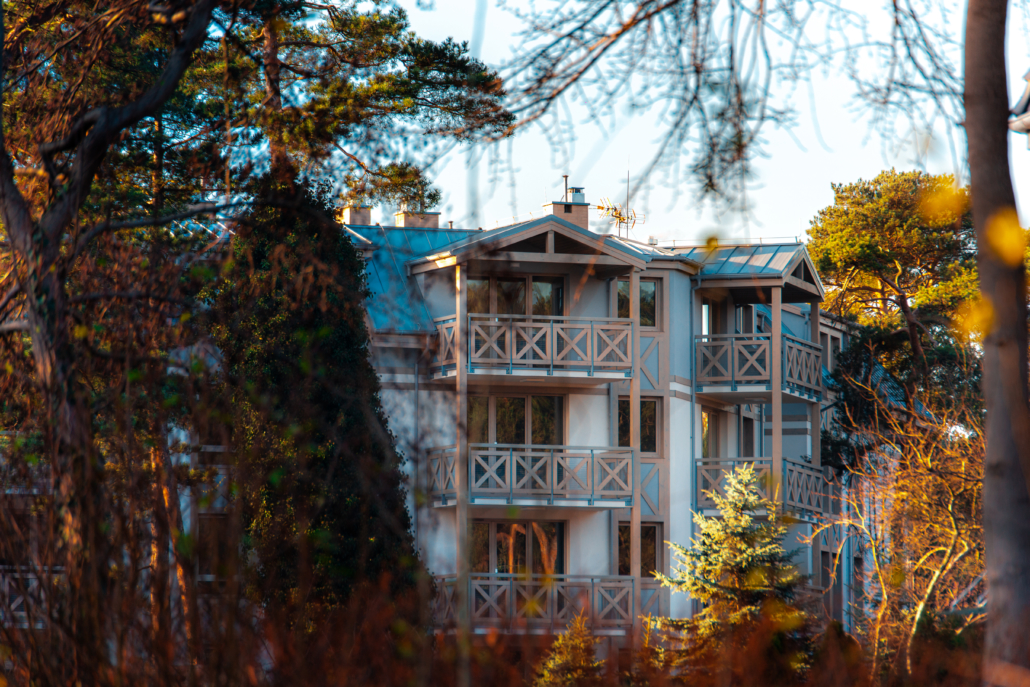 New apartments in the seaside park
Rezydencja Park Mielno owes its beauty mainly to its location and consistently maintained architectural style. It was created in a pine coastal park, located between the sea and Lake Jamno. A total of 9 buildings forming the complex perfectly blend in with the surrounding greenery. It is the old pine trees, consciously preserved and cared for by the investor, that have the strongest influence on the atmosphere of this place.
The complex was created in stages over the last few years. Although the buildings were designed by different architectural studios and executed by different companies, they retain a consistent character.  It refers to the old Pomeranian construction style and atmosphere of the old Baltic Sea resort. Hence the wooden elements in the facades resembling half-timbered wall, pastel colours of the external walls, slightly sloping roofs.
There are nearly 200 apartments in the whole complex. They have a varied surface area, although a very practical solution with one bedroom, a kitchen and a bathroom predominates.
The smallest apartment is a studio of 28 square meters. It is an optimal area for a single person or a couple spending a summer holiday on the Baltic Sea or enjoying a weekend at the seaside.
The largest apartment of 130 sqm with two balconies of 8 and 10 sqm is a comfortable apartment where you can spend not only holidays but also the rest of the year. The apartment was created by combining two units previously planned as separate premises. It was arranged and equipped according to the owner's concept.
Diana Butowska, responsible for the sale of the apartments on behalf of the investor, comments – "Some buyers of apartments in Rezydencja Park Mielno buy them with their own needs in mind, wanting to have their second home by the sea, others treat them as a safe investment that brings them profits from the lease and is also a kind of investment for their future retirement. Customers also choose apartments in Rezydencja Park because of the high quality of finishing and affordable price, which includes turnkey finishing.
Both owners and guests can count on trouble-free parking of the car in the complex, which offers 197 parking spaces above ground and in the garage halls.
Rezydencja Park Mielno enjoys the reputation of a peaceful and safe place, which makes it particularly attractive for families with children. The youngest guests have two playgrounds at their disposal and the adults have recreational areas. People looking for comfortable conditions for work that requires concentration are also satisfied with their stay in Rezydencja.
The total cost of building Rezydencja Park Mielno was PLN 25 million. The vast majority of apartments have long had their owners. Those interested in buying an apartment can make an appointment for an individual presentation in the interior of the showroom apartment.