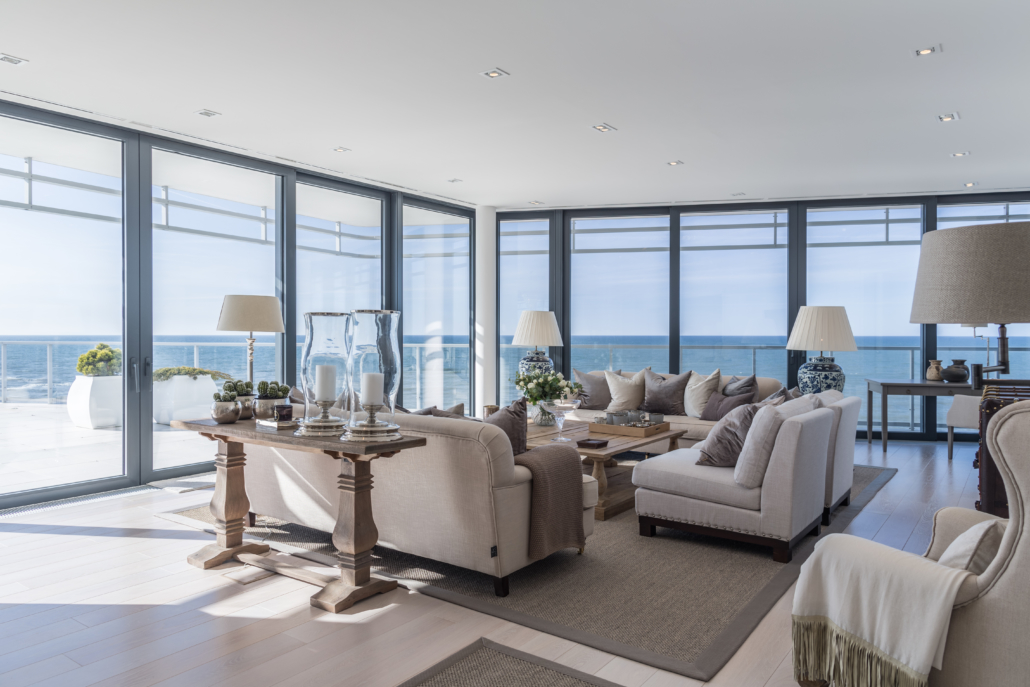 The luxury real estate market is growing
For the tenth time, KPMG consulting company has published a report entitled "Luxury goods market in Poland. Luxury through generations". It is based on financial data from 2018 and surveys conducted in the group of the wealthiest Poles in October 2019. Basic conclusions: in Poland, the number of people using luxury goods (including those investing in such real estate) is systematically growing, and the youngest adult Poles reach for luxury most eagerly.
The KPMG report refers to 1.4 million Poles from three groups: well-paid/well-off (monthly income above PLN 7.1 thousand gross), rich people (monthly income above PLN 20 thousand gross) and very rich people (monthly income above PLN 50 thousand gross).
Together with the wealth of Polish society, the market of luxury goods is also growing. Last year, it was worth over PLN 25 billion. Its largest segment continues to be premium and luxury cars, but high growth is also seen in the hotel and spa services and real estate categories.
Growing wealth drives the premium and luxury real estate market. On the one hand, rich Poles are looking for opportunities to invest capital, on the other hand, apartments and residences are an expression of the high social and material status achieved.
The classification of a property into the premium class is usually determined by the price per square meter of area. On average, such apartments in Poland, even in Warsaw, still cost less than in Western Europe or in the United States. However, Warsaw prices are quickly catching up with those in the cities of the "old" Union. The average price for 1 m2  of luxury apartments in Madrid is 7,000 euros, in Berlin 9,100 euros, in Paris 15,100 euros and in London 17,700 euros. In Warsaw, the average price of premium units in the first half of 2019 was about EUR 6,534 (the most expensive transaction: about EUR 10,440 per m2).
However, in the opinion of Poles, it is not only the price that determines that a given apartment or residence reaches a higher status. In the KPMG survey on the perception of luxury, the respondents indicated that the most important feature of a luxury property is its location in a prestigious district or town (69% of indications). Other features of luxury indicated by the respondents are expensive furnishings (60%), security (57%), interior decoration (57%) and large area (56%). Younger respondents (18-35 years old) more often than older respondents indicated a convenient location as an important feature. In turn, people over 35 years of age paid more attention to the presence of separate representative premises, such as elegant restaurants or boutiques.
Among the investments in Mielno, all these criteria are met by the spectacular Dune Resort complex. It is not only 330 apartments of a very high standard, but also wellness and gastronomy facilities, 24-hour reception and security, a unique location by the very seaside walking promenade. Everything is located in three perfectly designed and constructed buildings, seamlessly integrated into the natural surroundings of the dunes and Baltic vegetation. It is difficult to find another so perfectly located investment on the Baltic Sea, not only in Poland.
According to the KPMG report, as confirmed by other data sources, the luxury real estate market has been developing dynamically over the last few years and continues to grow, with its value approaching PLN 4 billion in Poland.
Cezary Kulesza, Sales and Marketing Manager at Firmus Group, stresses that premium properties have always been and will always be a great investment and an excellent capital investment for several reasons. The key in this case is the location, which guarantees that the property will be resistant to market situations and fluctuations – and thus achieve constant growth in value.
Moreover, with good management, premium apartments guarantee stable rental income. The current level of interest on the deposits is lower than the inflation level. Even the most advantageous deposit does not guarantee a return on capital equal to the rental income. It is worth remembering that in the case of premium apartments located in holiday resorts the owners have the possibility to use the apartments according to their own needs.
Andrzej Marczak, partner in KPMG, estimates the total value of the luxury goods market in 2019 at over PLN 25.2 billion, which means an increase of 5.4 per cent year-on-year. He also draws attention to the fact that the expected economic slowdown may have an impact on a temporary slight slowdown in demand growth, but thanks to growing wealth and changes in Poles' lifestyles, the luxury goods market will continue to grow, to reach over PLN 38 billion in 2024, which would represent an increase of 51% compared to 2019.
Understandably, the numbers and incomes of the rich and very rich are crucial for the luxury goods market. According to the Global Wealth Databook 2019 report prepared by Credit Suisse Bank, there are already almost 116 thousand HNWI (high net worth individuals) living in Poland, i.e. people whose net worth is at least USD 1 million. In the ranking, Poland has already overtaken Finland and Greece, but still lags far behind many Western European countries. The United Kingdom, where nearly 2.5 million HNWI live, and Germany and France with more than 2 million people whose net worth exceeds 1 million dollars, continue to lead the way.
The survey showed how different is the approach of Poles to luxury goods and services. Nearly 1/3 of rich people with monthly income exceeding 20 thousand PLN gross stated that they spend more than 30 percent of their annual net income on luxury goods. Young people in turn more often indicated that they intend to increase their spending on such goods in the near future.
Luxury real estate – steady growth
Almost one and a half million Poles already belong to the group of wealthy people.


The luxury goods market in Poland reached PLN 25.2 billion in 2019.
The number of rich Poles in 2018 exceeded 234 thousand, of which nearly 67 thousand were very rich. The largest number of people from the first group lived in Mazowieckie, Śląskie and Wielkopolskie Provinces, while the second group lived in Mazowieckie, Małopolskie and Wielkopolskie Provinces.
One of the fastest growing types of luxury goods are hotel and spa services. The luxury real estate market is also growing faster than the entire market for luxury goods.
The youngest consumers buy luxury goods more often than people aged 51+.
Poles perceive luxury primarily through the prism of brand prestige; they also pay attention to the quality and appearance of the product.